A few words about us
Our Team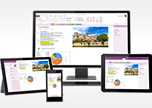 Who is F2IJ Soft?
F2IJ Soft is a software development company specializing in providing businesses with technology solutions. As a mobile , web and Desktop application development company with skilled software developers, F2IJ Soft combines technological expertise, specific domain experience.
Our application developers work within your time zone to allow real-time collaboration and a true "branch location" feel, ensuring full availability during your business hours.
We work with you based on your software development objectives to bring you the most value and the quickest return on investment with a dedicated team to your project.
Our software developers are organized in virtual divisions, carrying the domain experience and know-how within the industry to offer exceptional application development solutions.
John Fayez
Executive Director (CEO)
I'm the founder of f2ijsoft and my job is to make sure the agency grows in a sustainable, exciting way.

Mina Labib
Information Systems Consultant
Study, Design, & Develop information systems as business solutions. Provide advice on a wide range of related issues.